2009 Aston Martin Vantage 4.7 Sportshift 2Dr Coupe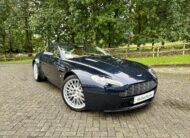 SkillanNaylor Car Company are pleased to offer this 2009 Aston Martin Vantage 4.7 Sportshift 2Dr Coupe seen in Midnight Blue Metallic with Sahara Tan Leather featuring Caspian Blue Stitching.
A Symphony of Power and Elegance: Prepare to embark on a journey where luxury meets performance in perfect harmony. The 2009 Aston Martin Vantage 4.7 Sportshift Coupe is a masterclass in automotive excellence, offering a captivating blend of power, style, and refinement.
Design Excellence: From the moment your eyes lock onto its sculpted lines and captivating curves, you'll know this is not just a car; it's a work of art. The Aston Martin Vantage's timeless design is a testament to British craftsmanship, with its iconic grille, sleek profile, and stunning alloy wheels.
Heart-Pounding Performance: Beneath the bonnet lies a beastly 4.7-liter V8 engine that roars to life with 420 horsepower and 346 lb-ft of torque. The Sportshift automatic transmission allows for lightning-quick gear changes, delivering a spine-tingling driving experience that leaves you breathless.
Luxury That Envelopes You: Open the door, and you're greeted by a world of opulence. The interior is a showcase of handcrafted luxury, featuring sumptuous leather, polished wood accents, and meticulous attention to detail. Every journey becomes an event, enveloped in comfort and sophistication.
Precision Handling: Aston Martin's legendary engineering ensures that every twist and turn of the road is an exhilarating experience. Responsive steering, powerful brakes, and a perfectly balanced chassis make the Vantage a driver's dream come true.
Impeccable Maintenance: This 2009 Aston Martin Vantage has been meticulously maintained throughout its life, with a detailed service history to provide you with peace of mind.
Don't miss your chance to own a 2009 Aston Martin Vantage 4.7 Sportshift 2Dr Coupe - Where Performance Meets Luxury! This is more than a car; it's an iconic statement of your taste and appreciation for the finer things in life. Act now, as this car won't be here for long.
Contact us today to arrange a test drive and experience the thrill of driving an Aston Martin Vantage!
The features & options of this car include:
HID Headlights
Front & Rear Parking Sensors
19" 20-Spoke Highly Polished Alloy Wheels
Elec Fold Ext Door Mirrors
Electric/Memory Seats
Heated Seats
Digital Air-Con
Cruise Control
Radio/CD
Comfort Driving Mode
Bright Finish Front Grill
Sat-Nav
Mobile Phone prep
Titanium Grey Brake Callipers
Gun Metal Facia trim
To arrange a test drive in this car please contact SkillanNaylor Car Company.
Drive this car from only £726 per month.
Offer based upon a deposit of £8,000 and a term of 60 months.
Offer subject to status and T&Cs apply. Please contact us for further information.