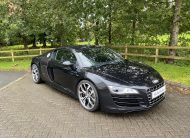 Vehicle Overview
Technical Specifications
Finance example
Vehicle Location
SkillanNaylor Car Company are delighted to offer this beautiful 2009 Audi R8 Quattro V10 in Phantom Black Pearl with Lava grey slide blades complemented with Anthracite Fine Nappa leather.
When you come to buy a car it can sometimes can be more of an emotive process with your heart ruling your head, on hearing the engine in this car, it will definitely remove any of your heads involvement in the buying process. This car comes with the same Lamborghini 5.2 V10 engine used in the Gallardo developing 525PS,  coupled to Audi's famed Quattro 4Wd system. This gives the car a sub 4 second 0-60 time and a top speed close to 200mph.
At present this car is the one of just two for sale in the whole of the UK with the rare manual transmission featuring the classic H pattern open gate gearbox. This makes changing gear an event in itself, add to this the glorious sounding V10 engine in  mid engine format and a rewarding chassis you have all the ingredients to make this a true drivers car.
One of the games we often play with customers is guess the price of the vehicle. So far, no customer has guessed that the price of this vehicle correct. This car offers supercar looks & performance for the price of a mid sized executive saloon.
This car comes with an extensive specification including but not limited to, Audi extended fine nappa leather, Audi Nav, Reversing Camera, Magnetic suspension, heated seats , climate control, 6 disc cd system
For more information on this stunning vehicle and to arrange a test drive please contact SkillanNaylor Car Company.
The features & options of this car include:
Audi extended fine black nappa leather
Audi Navigation
Audi Advanced Park system
Audi Mag Ride Adjustable Suspension
Heated Seats
6 Disc CD
Climate control
Reversing Camera
Xenon Headlights
Elec Fold Ext Doors
B & O Stereo
Carbon Fibre Engine Cover
19" Audi Spyder Design Polished Alloy Wheels
Miltek Exhaust
Drive this car for only £777 per month.
Offer based upon a deposit of £9,000 and a term of 60 months.
Offer subject to status and T&Cs apply. Please contact us for further info.