2022 Tesla Model Y Long Range AWD 5Dr Auto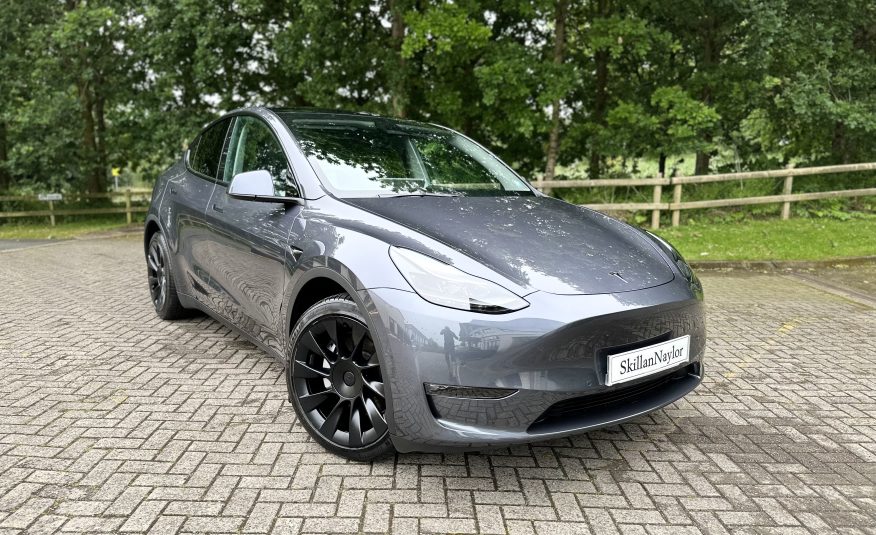 SkillanNaylor Car Company 2022 Tesla Model Y Long Range AWD 5Dr Auto seen in Midnight Silver Metallic with an All-Black Premium Interior.
Are you ready to experience the pinnacle of automotive innovation? Look no further than the 2022 Tesla Model Y Long Range All-Wheel Drive (AWD). This cutting-edge electric SUV is here to revolutionize the way you drive, combining luxurious comfort, stunning performance, and zero emissions, all in one magnificent package.
Unparalleled Range and Efficiency
The Tesla Model Y Long Range AWD boasts an exceptional range that will redefine your expectations. With an impressive EPA-estimated range of over 300 miles on a single charge, this SUV is engineered to take you further than ever before. Whether you're embarking on a cross-country road trip or simply navigating your daily commute, range anxiety becomes a thing of the past as you effortlessly explore the world around you.
Electrifying Performance
Underneath the sleek and aerodynamic exterior lies a powerful electric drivetrain that will leave you breathless. The Model Y Long Range AWD accelerates from 0 to 60 mph in just 4.8 seconds, delivering exhilarating bursts of speed that will put a smile on your face every time you press the pedal. With dual motors and all-wheel drive, you'll experience unmatched traction, stability, and control, whether you're tackling challenging terrains or manoeuvring through city streets with confidence.
Cutting-Edge Technology
Step inside the cabin, and you'll be transported to a world of technological marvels. The Model Y Long Range AWD features an expansive 15-inch touchscreen display, seamlessly integrating all aspects of your driving experience. From navigation to media control, climate settings to vehicle customization, everything is at your fingertips, making every interaction with your Tesla effortless and intuitive.
Unrivalled Safety
Safety is at the forefront of Tesla's design philosophy, and the Model Y Long Range AWD is no exception. With an arsenal of advanced safety features, including Tesla's renowned Autopilot system, you'll enjoy peace of mind on every journey. Navigate congested motorways, stay within lanes, and park effortlessly with the assistance of cutting-edge sensors and cameras that monitor your surroundings, acting as an extra pair of eyes for added security.
Exceptional Versatility
With its spacious interior and versatile design, the Model Y Long Range AWD adapts to your lifestyle effortlessly. With seating for up to five passengers and an expansive cargo area, you'll have ample room for both passengers and their belongings. Plus, the rear seats fold flat, providing the flexibility to transport larger items whenever needed. Whether you're embarking on a family adventure or running errands around town, the Model Y ensures comfort and convenience every step of the way.
A Sustainable Future
By choosing the 2022 Tesla Model Y Long Range AWD, you're not just embracing state-of-the-art technology; you're actively contributing to a cleaner and more sustainable future. With zero tailpipe emissions, you're reducing your carbon footprint without sacrificing performance or luxury. Join the electric revolution and be part of a movement that paves the way for a greener planet.
Don't miss your chance to own the epitome of electric driving. Contact us today to schedule a test drive and experience the unparalleled wonder of this one owner 2022 Tesla Model Y Long Range AWD. Elevate your driving experience and embrace the future, one electrifying mile at a time.
The features & options of this car include:
Acceleration Boost
12-Way Power Adjustable Driver Seat with Lumbar Support
15in Touchscreen with Onboard Maps and Navigation
20" Satin Black Alloy Wheels
4 USB-C Port
ABS - Anti-lock Braking System
Airbags - Driver
Airbags - Passenger
Ambient - Interior Lighting
Auto Dimming - Power Folding - Heated Side Mirrors
Enhanced Autopilot
Automated High-Beam Assist
Automatic Emergency Braking
Blind Spot Monitoring
Centre Console with Storage - 2 Cupholders and Armrest
Climate Control - Dual Zone
Collision Warning
Cupholders - 2x Rear Centre Armrest
Custom Driver Profiles
DAB+ Radio
Dashcam
Electric Assisted Front and Rear Door
Electronic Fold-Flat Seat Release 40/20/40 - Rear Seats
Expansive Glass Roof with Ultraviolet and Infrared Protection
Front Electric Windows
Front Parking Sensor
Glovebox Lockable with Illumination
HEPA Air Filtration System
Headlights - Automatic On
Heated Steering Wheel
Interior Floor Mats
Interior Trim - Open Pore Wood Décor
Keyless Driving and Keyless Entry
LED Fog lights
LED Headlights
Map and Reading Lights
Music and Media via Bluetooth
Power Adjustable Steering Column - Tilt-Telescopic
Power Lift Tailgate
Power Steering - Speed Sensitive
Premium Audio - 14 Speakers - 1 Subwoofer - 2 Amps and Immersive Sound
Rear Parking Sensor
Rear View Mirror - Auto Dimming
Seats - Heated Front
Seats - Heated Rear
Software Updates over WIFI
Speed Limit Recognition
Sun visors with Vanity Mirror and Illumination - Driver and Passenger
Tesla Mobile App
Type 2 Public Charging Connector
Tyre Pressure Monitoring System
Wipers - Rain Sensing
Wireless Phone Charging
To arrange a test drive in this car please contact SkillanNaylor Car Company.
This vehicle is available to purchase with a PCP finance plan. (Personal Contract Purchase) This gives the purchaser increased flexibility and a lower monthly payment.
With a PCP you choose the deposit and term which offers you the most cost effective monthly payment.
For example:
£48,995 On the road purchase price
£9,800 Initial deposit
£606 x 48 monthly payments
£22,722 Guaranteed future residual value.
When the guaranteed future residual value payment is due you have 3 x options.
Option 1. Pay the final payment and keep the car
Option 2. PX the car and any equity between the PX price and the final payment is yours to use as a deposit on your next car.
Option 3. Return the car to the finance company and walk away and make no further payments.
Offer based upon a 7,000 mile per year.
For more information on this offer please contact us.