2022 Porsche Taycan 4S Cross Turismo 5Dr Auto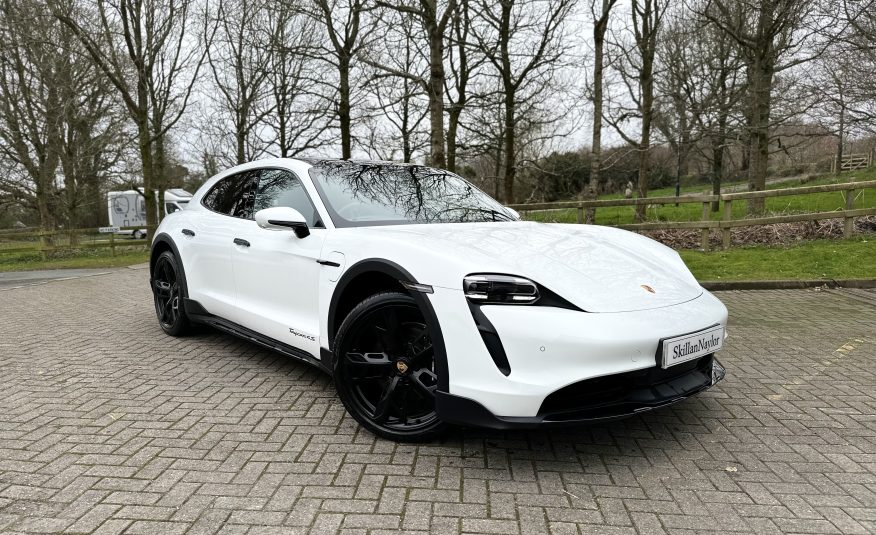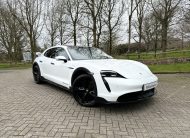 Vehicle Overview
Finance example
Vehicle Location
SkillanNaylor Car Company are pleased to offer this 2022 Porsche Taycan 4S Cross Turismo 5Dr Auto see in White with Black Leather upholstery.
In this modern motoring world where you choice of fuel is now petrol, diesel or electric it's sometimes difficult to know which way to go. It can also be difficult for car manufactures to decide what they want their new cars to be able to do. When Porsche developed the Taycan it was very simple. It had to look, feel and drive like a Porsche but be powered be electric.
When you see a Porsche Taycan you instantly know its a Porsche. All of the modern Porsche design queue's are there. Sculptured round wheel arches, large alloy wheels, a low roof line, a wide rear track and an sleek overall body design. The external design of the Taycan looks like a 911 with an extra bit added in to the middle. When you get inside the car the design is equally impressive. Some car manufactures talk about the number of dash screens a car has and were they are placed. In the Taycan the whole dash is a screen. The driver looks at a digital version of the traditional ringed dials you would find in any old school Porsche. The centre part is where the majority of the info is displayed including the Sat-Nav and then in front of the passenger there is further info about the car including the media and radio.
When you get to drive a Porsche Taycan it is fast...like proper fast. In this car 0-62 MPH takes just 4.1 Secs. It has permanent 4-Wheel drive which helps put all of its power down all of the time. Talking of power this car produces what equates to 523 BHP thanks to its twin electric motors. This performance doesn't come at the sacrifice of range though. Fully charged this car has a manufacture stated range of up to 304 miles.
Porsche offers the Taycan in three different levels. Standard, 4S and Turbo with each car getting progressively more power from its electric motors and a higher level of factory equipment. This car is a 4S model
The Taycan is a fantastic car and one of the best in Porsches current line up irrespective of whether its powered by an internal combustion engine or electric. Its ultra modern but it doesn't shout 'i'm an electric car'. If there would be one criticism it would be on practicality. The rear space is not enormous and the boot is not that spacious............Hold on, what you need a Porsche Taycan Cross Turismo.
The Porsche Taycan Cross Turismo is effectively an estate or a more fitting name would be Shooting Brake version of the Taycan. You get more rear passenger space and better head room and a larger boot. This particular cars flexibility is further enhanced by the optional 5-seat configuration.
This car was first registered to its previous owner on September 2022 and it has now covered just 1,500 miles. The manufacture warranty is in place until 2025 and the lead-time for a new order for a car of this type is well over 12 months. If you look at the price for this car there is no doubt it is a large chuck of money however when you compare to other Porsche's it is in line with everything else they sell. It's difficult to offer competitor cars to the Taycan. BMW, Mercedes and Audi offer large electric cars but none will match the overall appeal of the Taycan.
So in summary if your wants & needs list for your next car is quite long and has things on it like, electric, power, performance, good range, handsome good looks, high level of tech, 4-Wheel drive, spacious, practical etc this Porsche Taycan Cross Turismo could be just the car for you.
When you order a New Porsche you will see that the factory fitted options list is extensive. It would appear that on this car most of the boxes available were ticked.
Full Black Leather upholstery
Offroad Design Pack
Elec Fold Exterior Door Mirrors
Exterior Mirror lower trims painted in exterior colour
Black High-Gloss Side Window Trims
Black High-Gloss Door Handles
Model Designation in Black
Prep for a Bike Carrier
Rear Screen Wiper Trim in Black High-Gloss
Porsche Electric Sport Sound
Brake Callipers in Black High-Gloss
Power Steering Plus
21" Cross Turismo Design Alloy Wheels in Black High-Gloss
Tyre Sealing Compound and Electric Air Compressor
Rear Light Strip with Porsche Logo in Black
Auto Dim Ext & Int Mirrors
Fixed Panoramic Glass Roof
Grey Top Tinted Windscreen
Privacy Glass
Park Assist inc Surround View
Lane Change Assist
HomeLink
4+1 Seats
Compass Display on Dashboard
Ioniser
14-Way Comfort Front Seats with Memory Pack
Heated Seats Front & Rear
Rear Side Airbags
Heated Steering Wheel
Accent Pack in Dark Silver
Bordeaux Red Seat Belts
Compass/Sport Chrono Stopwatch Dial in Bordeaux Red
Luggage Compartment Partition Net
Porsche Crest on Front Headrests
Passenger Display
BOSE Surround Sound Stereo
Electric Charging Cover
150kW DC On-Board Booster
Public Charging Cable (Mode-3)
To arrange a test drive in this car please contact SkillanNaylor Car Company.
This vehicle is available to purchase with a PCP finance plan. (Personal Contract Purchase) This gives the purchaser increased flexibility and a lower monthly payment.
With a PCP you choose the deposit and term which offers you the most cost effective monthly payment.
For example:
£104,995 On the road purchase price
£21,000 Initial deposit
£1,479 x 48 monthly payments
£37,127 Guaranteed future residual value.
When the guaranteed future residual value payment is due you have 3 x options.
Option 1. Pay the final payment and keep the car
Option 2. PX the car and any equity between the PX price and the final payment is yours to use as a deposit on your next car.
Option 3. Return the car to the finance company and walk away and make no further payments.
Offer based upon a 7,000 mile per year.
For more information on this offer please contact us.