2017 Volkswagen Transporter T6 T32 2.0 TDI BMT 150 Highline Kombi SWB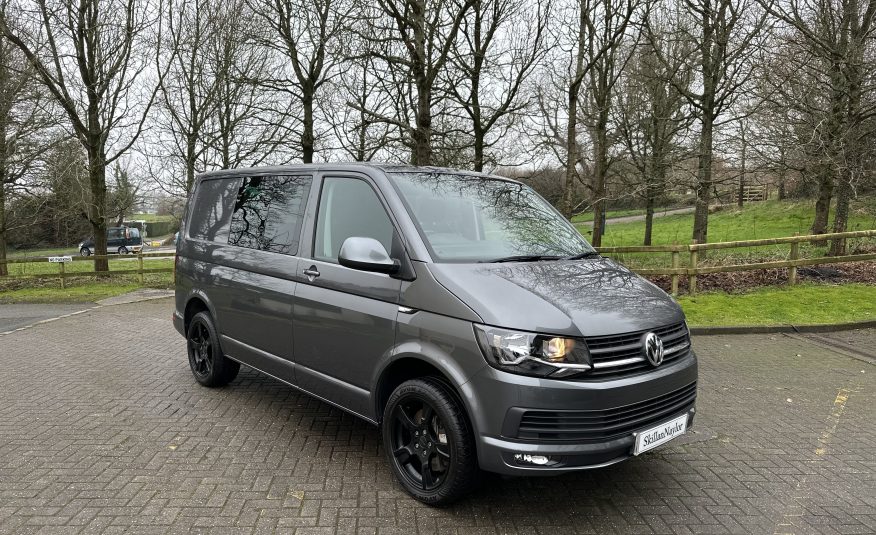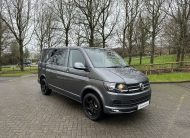 Vehicle Overview
Finance example
Vehicle Location
SkillanNaylor Car Company are pleased to offer this 2017 Volkswagen Transporter T6 T32 2.0 TDI BMT 150 Highline Kombi SWB seen in Indium Grey with Anthracite Cloth upholstery.
Do you know what was the best selling vehicle in the UK in 2022? It was the Ford Transit. That's right a van out sold any car from any sector. This shows you how popular driving a van is.
You would expect that most vans are bought by tradesmen and you would be right however more and more people are buying vans as there primary vehicle. This is because driving a van offers so much more space and flexibility than your average family car.
When people buy a van to use as the daily driver what motivates them to chose a particular make or model can differ. Some just want a workhorse and are not bothered by who the manufacture is as long as they can get their stuff in it. At the other end of the spectrum you have people who are fanatically loyal to one make & model. This usually means you are either a Ford Transit driver or Volkswagen Transporter driver.
A lot of other car manufacture use the VW Golf as measuring stick to compare their own cars against. "It drives like a Golf" is a phrase often used when talking about a rival model. This is the same when it comes to vans. The Transit drives like a Transit. By this i mean well but you can still tell it is a commercial vehicle. A Transporter drives like a Golf. They are refined, quiet, well built and comfortable.
With the rise in the sales of vans has seen also seen the rise in companies offering to upgrade and modify them. Have a look online. There is whole new industry booming with the supply of new wheels, body kits, interiors and performance upgrades for vans.
If you enjoy an active family life style a 'Kombi' van is the most popular choice. A Kombi van is a van with additional side windows and a second row of seats. This adds to the flexibility as it means you can carry all of your stuff and your family at the same time. Most Kombi vans have the ability to remove the second row of seats should you on occasion need to increase the carrying capacity.
This Volkswagen Transporters is T6 which means it is one of the latest models. (There is now a T6.1 which feature a revised front end design and upgraded dashboard). The T32 designation means that this van is design to carry heavy loads. There are over lower models available referred to as T26,28,30.
The engine in this van is a 2.0L 4-Cylinder Turbo Diesel that develops 150 BHP. This gives the van car like pace along with decent fuel economy and running costs.
Highline is the trim level and in this van it means you get rear parking sensors, a heated windscreen, electric folding door mirrors and Bluetooth phone & music prep. These option again add to the car like feel. We have give this van a visual upgrade by adding genuine VW Transporter 18" Satin Black Sportline Alloy Wheels.
As mentioned a lot of vans are bought for commercial purposes. This van stands out as it has only be used for non commercial use from day one. This shows in its excellent condition both inside and out. The condition is further backed up by its extremely low mileage of just 14,916 miles.
One final and important feature about this van is the price. If it was a commercially used van the price would be plus VAT. As this was a privately used vehicle the VAT was paid by the first own and is now not due.
If you want a vehicle that is as good to look at as it is to drive that offers ultimate practicality look no further.
The features & options of this van include:
Front Fog Lights
Privacy Glass
Single Sliding Side Door
Tailgate
18" Genuine VW Sportline Alloy Wheels painted in Satin Black
Twin Front Captains Chairs in the front
Split-Folding and removable Rear Bench 2+1
 Air Con
Heated Windscreen
Elec Fold Ext Door Mirrors
Cruise Control
Bluetooth Phone & Music prep
USB Audio Interface
Auto Lights & SWipers
Electric Windows & Mirrors
To arrange a test drive in this van please contact SkillanNaylor Car Company.
Drive this van from only £476 per month.
Offer based upon a deposit of £6,000, a term of 48 months and a deferred final payment of £9,000.
Offer subject to status and T&Cs apply. Please contact us for further info.