2015 Audi RS3 Sportback 2.5 TFSI Quattro 5Dr S-Tronic Auto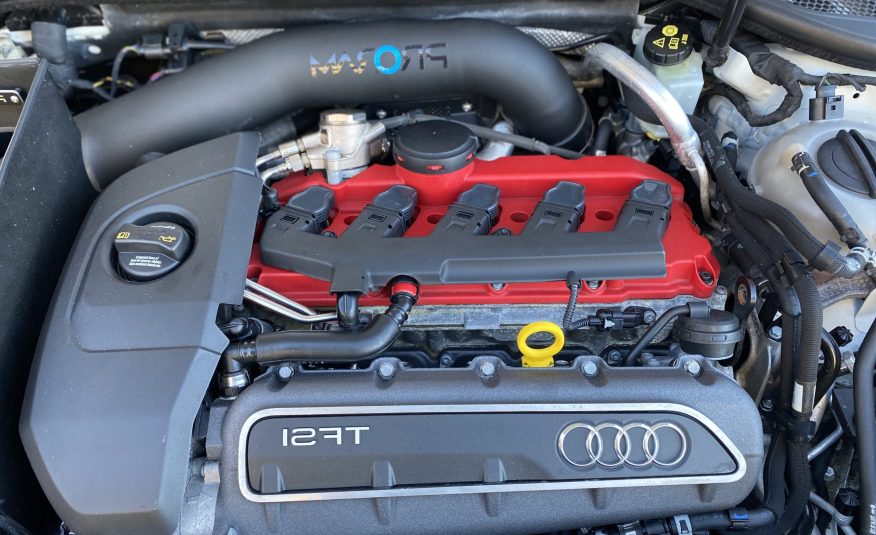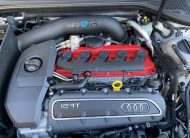 Vehicle Overview
Finance example
Vehicle Location
SkillanNaylor Car Company are pleased to offer this 2015 Audi RS3 Sportback 2.5 TFSI Quattro 5Dr S-Tronic Auto seen in Glacier White Metallic with Black Nappa Leather upholstery.
In my opinion the Audi RS3 Sportback is a very special car that is dominated by one element, its engine. The engine in an Rs3 is a 2.5L 5-Cylinder Turbo Petrol that in this car develops 367 BHP. Why is this special?
To set some context in most hot hatchback's car manufactures elect to use a 2.0L 4-Cylinder Turbo Petrol engine. This will be an engine that is used across their range of cars that is developed and enhanced for the application of a hot hatchback. This reduces costs which improves profits for the manufacture.
A 2.0L 4-Cylinder Turbo Petrol can develop anywhere between 200BHP - 400BHP. The new Mercedes AMG A45S sits at the top of the hot hatchback tree with an amazing output of 416 BHP making it the world's most powerful 4-Cylinder Turbo Petrol engine.
The reason why the Audi RS3 is so special is because other than the TT RS the 2.5L 5-Cylinder Turbo Petrol engine is only used in the RS3. It is not used in any other Audi or VAG group car. Why choose a 5-Cylinder layout? Heritage!
Go on to YouTube and search up Audi rally cars. You will see and hear the might Audi Quattro rally cars from the Group B era from the 80's. This iconic car used a 5-Cylinder Turbo petrol engine to great effect and won the World Rally Championship (WRC) twice in 1982 and again in 1984.
The Audi Rally cars of the 80's also paved the way for another iconic Audi feature, 4-wheel drive. Audi refer to their 4-wheel drive system as Quattro which is Italian for four which is weird considering Audi is a German car manufacture. So, as you can see the Audi RS3 Sportback can reference some great cars from the past in its development plus you can use all of the power all of the time and in any weather.
This 2015 Audi RS Sportback is presented in Glacier White Metallic with contrasting Black Nappa Leather upholstery. The look of the car is further enhanced by the 19" Bi-Colour Rota Style Alloy Wheels and Gloss Black exterior styling pack.
The competitors to this car would be the Mercedes AMG A45 and BMW M140i. Both are great cars which we have sold many of in the past. Both are slightly different from one another. The A45 like the RS3 is 4-Wheel Drive but uses a 2.0L 4-Cylinder Turbo Petrol engine. The M140i uses a 3.0L 6-Cylinder Turbo Petrol that sends its power to just the rear wheels.
We have found that people who look at the RS3, A45 and M140 are quite brand loyal. S3 owners will migrate towards the RS3, A250 owners towards the A45 and 120/125 owners towards the M140. Whatever you chose you will enjoy the car.
This RS3 is presented in excellent condition and with an excellent specification.
Xenon Headlights
Front & Rear Parking Sensors
19" Bi-Colour Rota Style Alloy Wheels
Red Brake Callipers
Privacy Glass
Black Exterior Design Pack
Elec Fold Ext Door Mirrors
Auto Lights & Wipers
Super Sport Front Seats
Leather/Alcantara Flat-Bottomed Steering Wheel
Steering Wheel Mounted Gear Shift Paddles
Cruise Control
Selectable Driving Modes
Dual Zone Climate Air-Con
Heated Front Seats
Sat-Nav
Bluetooth Phone & Music prep
Bang & Olufsen Stereo
USB Audio Interface
Split-Folding Rear Seats
To arrange a test drive in this car please contact SkillanNaylor Car Company.
Drive this car from only £483 per month.
Offer based upon a deposit of £6,000, a term of 48 months and a deferred final payment of £9,000.
Offer subject to status and T&Cs apply. Please contact us for further info.