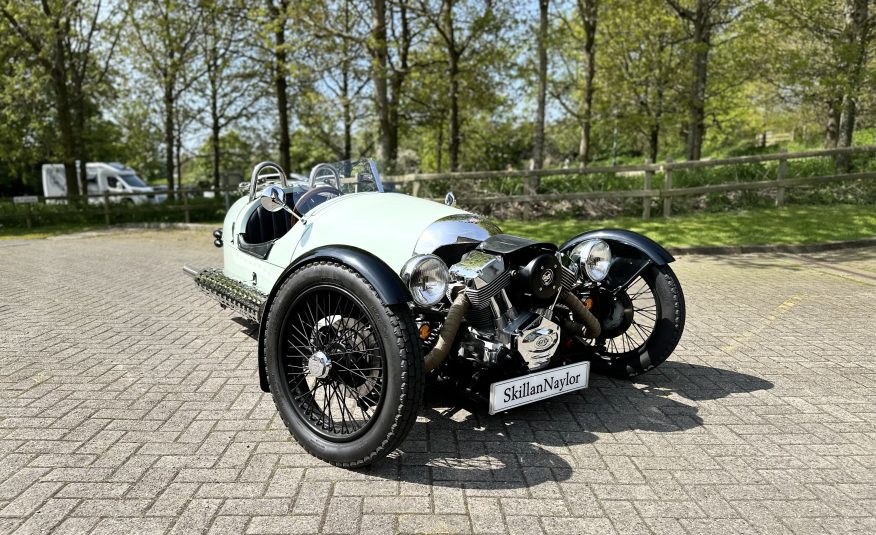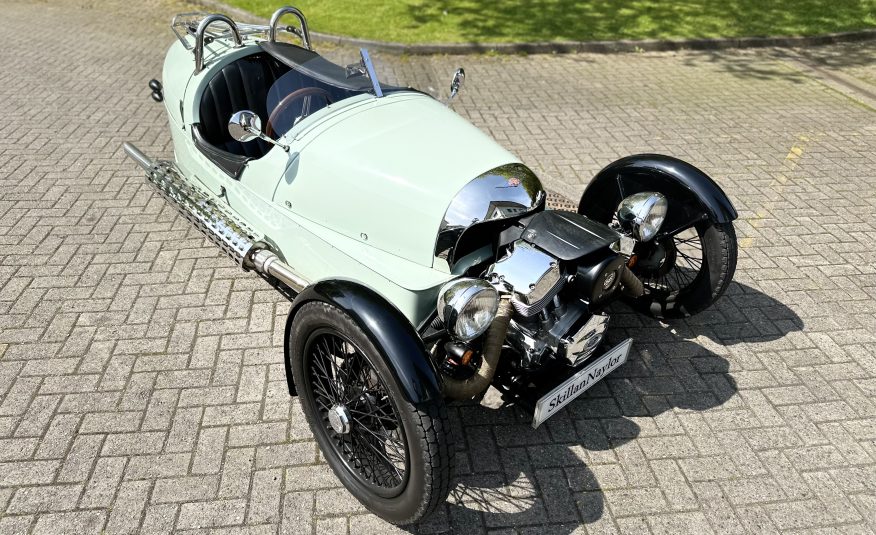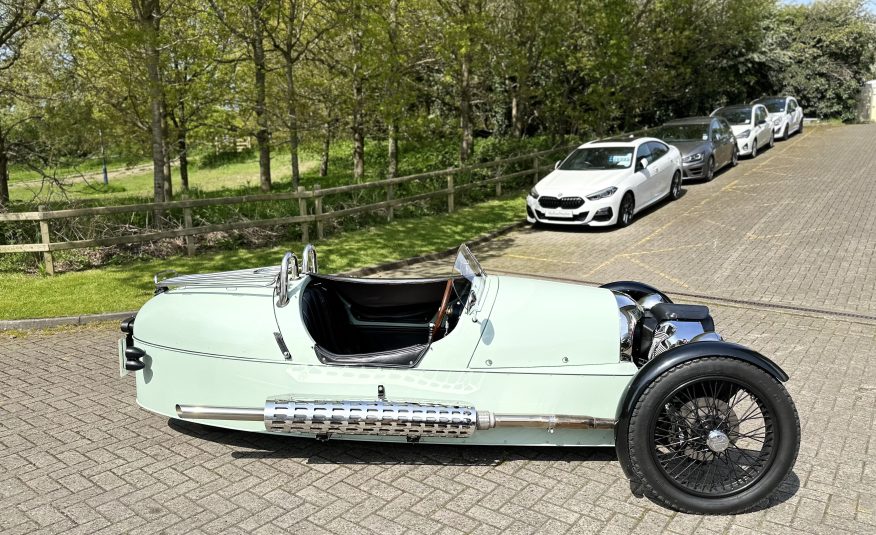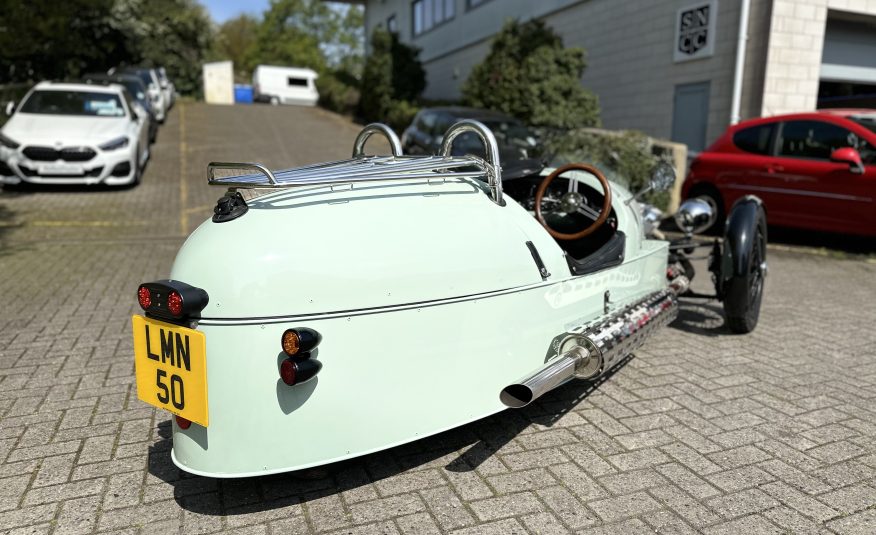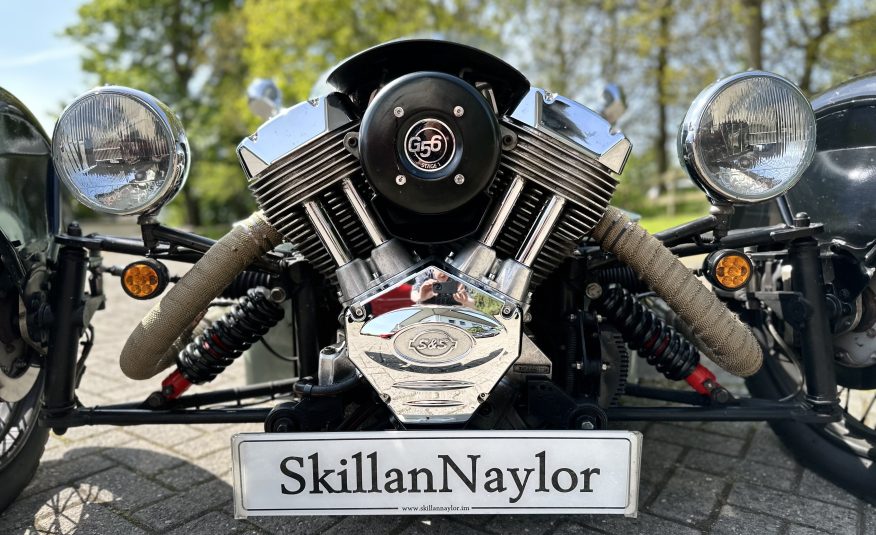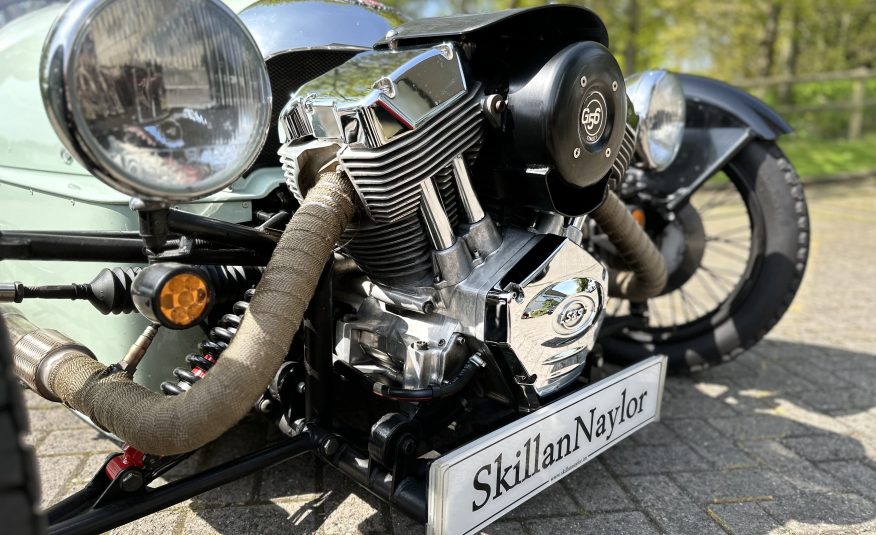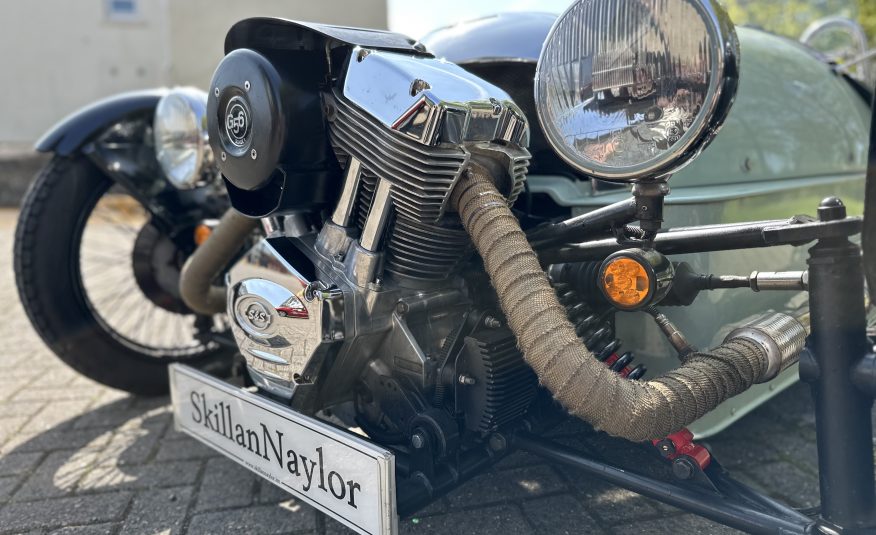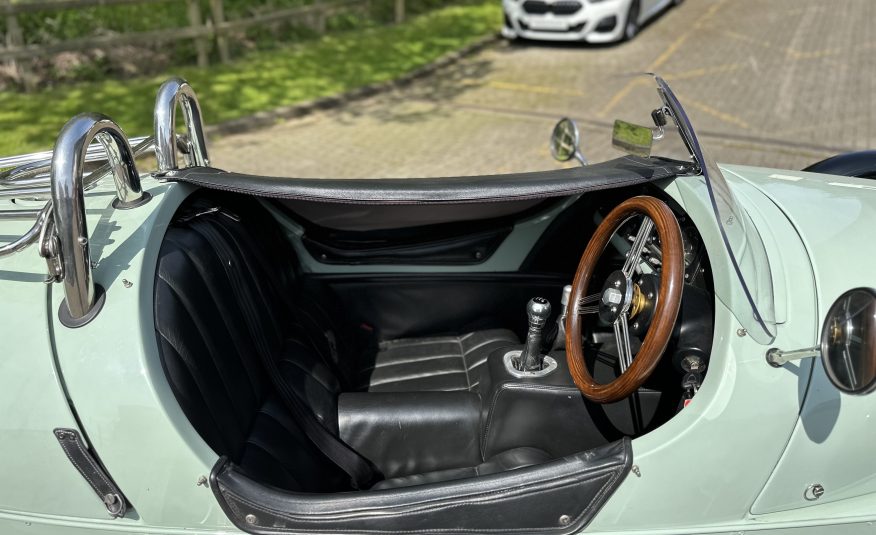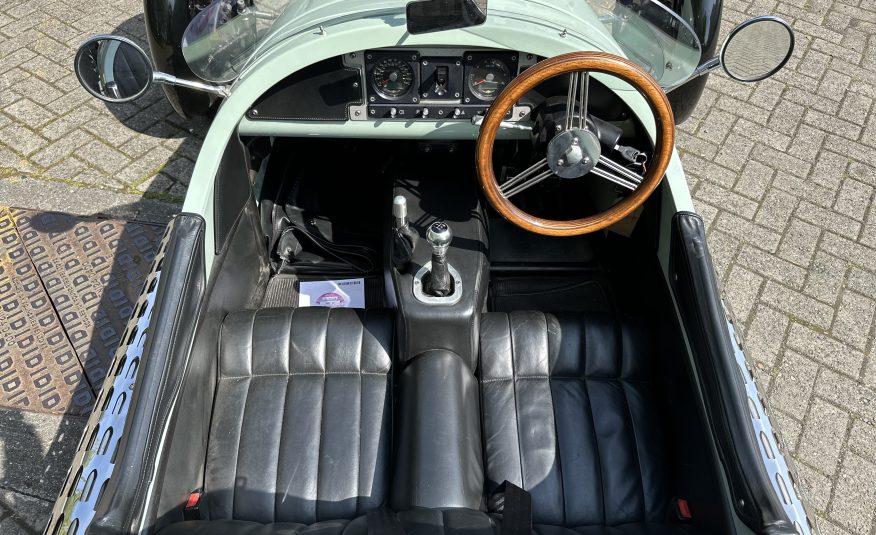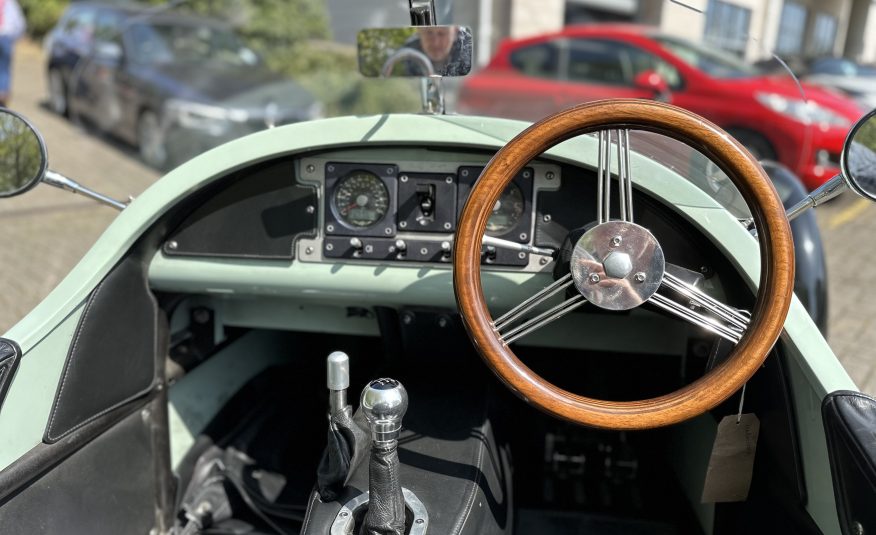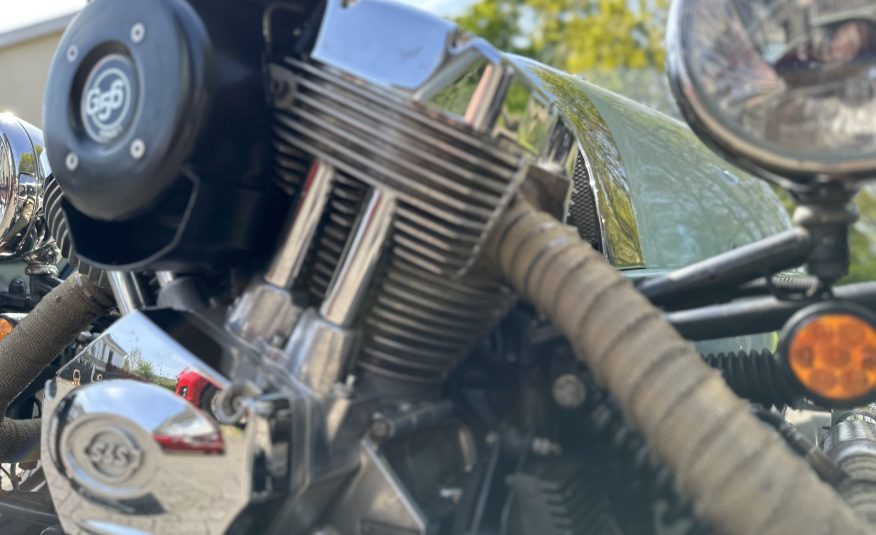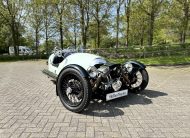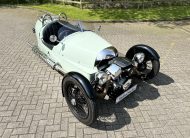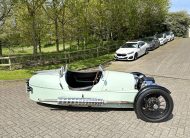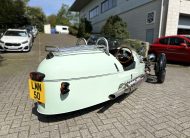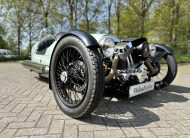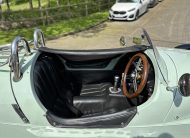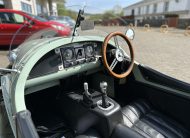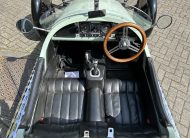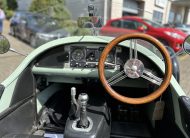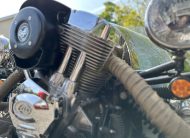 Vehicle Overview
Finance example
Vehicle Location
SkillanNaylor Car Company are pleased to offer this 2012 Morgan 3-Wheeler seen in Teal with Black Leather upholstery.
Introducing the Iconic Morgan 3 Wheeler: A Timeless Masterpiece of Automotive Excellence!
Are you ready to experience the thrill of a bygone era, where the wind in your hair and the rumble of a powerful engine were all you needed for an unforgettable driving adventure? Look no further than the legendary Morgan 3 Wheeler, a true automotive icon that combines classic design, exhilarating performance, and an unmatched sense of freedom.
Unmistakable Design
Step back in time and embrace the timeless charm of the  Morgan 3 Wheeler. With its retro-inspired design, this three-wheeled marvel captures the essence of the golden age of motoring. Its handcrafted body, featuring a sleek and aerodynamic shape, exudes elegance and sophistication. The exposed engine, open cockpit, and unique styling cues pay homage to the vintage racers of yesteryear, making it an absolute head-turner wherever you go.
Exceptional Performance
Underneath its vintage exterior lies a modern heart that beats with exhilarating performance. Powered by a robust 2.0-liter V-twin engine that can trace its heritage back to Harley-Davidson, the Morgan 3 Wheeler delivers an adrenaline-pumping driving experience. This car features a stage one upgrade which lifts the power to approximately 90 horsepower and 103 pound-feet of torque, this lightweight beauty sprints from 0 to 60 mph in just 4.5 seconds, offering an instant rush of speed. The thrilling sound of the engine combined with the engaging manual transmission ensures every drive is an unforgettable experience.
Pure Driving Pleasure
Prepare to be immersed in a driving experience like no other. The Morgan 3 Wheeler features a unique "centre driver" position, allowing you to feel at one with the road. The responsive steering and tight handling enable you to navigate corners with precision and confidence, while the low centre of gravity ensures exceptional stability. The absence of doors and a roof enhances the connection between you and the environment, providing an unparalleled sense of freedom and excitement that is rare in modern-day cars.
Craftsmanship and Attention to Detail
Morgan Motor Company has been synonymous with handcrafted excellence for over a century, and the 2012 Morgan 3 Wheeler is no exception. Meticulously constructed using traditional methods, each vehicle is a work of art, showcasing the skill and dedication of the craftsmen who built it. From the luxurious leather seats to the polished wood trim, every detail is carefully crafted to perfection, creating a cabin that exudes timeless elegance and sophistication. This car has covered just 13,631 miles and is complimented by a full service history with all of the work being carried out by Morgan car specialists.
Modern Comforts
While the 2012 Morgan 3 Wheeler embraces its classic heritage, it also seamlessly integrates modern comforts to enhance your driving experience. The ergonomic seats provide excellent support, ensuring comfort even during long journeys and they are heated so you drive this car all year round. Features such as a full instrument cluster, modern lighting, and great storage features ensure that you can enjoy the nostalgic ride without compromising on convenience or peace of mind.
Become a Part of Automotive History
Owning a Morgan 3 Wheeler means more than just possessing a remarkable vehicle; it means becoming a part of a rich automotive legacy. With only a limited number produced, this rare gem is sure to appreciate in value over time, making it a wise investment for any discerning collector or enthusiast. Whether you choose to display it as a piece of art or take it for exhilarating drives, the Morgan 3 Wheeler is a symbol of automotive passion and will turn heads wherever it goes.
Don't Miss Your Chance
Now is your opportunity to own a true automotive icon. The Morgan 3 Wheeler is waiting for a passionate driver who appreciates the blend of timeless design, exceptional performance, and pure driving pleasure it offers. Don't miss your chance to embark on a journey through time and experience the joy of driving.
To arrange a test drive in this car please contact SkillanNaylor Car Company.
Drive this car from only £569 per month.
Offer based upon a deposit £6,500 and a term of 60 months.
Offer subject to status and T&Cs apply. Please contact us for further info.