2009 Audi R8 V10 5.2 Quattro Coupe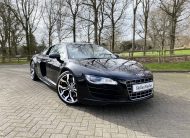 Vehicle Overview
Finance example
Vehicle Location
SkillanNaylor Car Company are pleased to offer this 2009 Audi R8 V10 5.2 Quattro Coupe seen in Phantom Black Pearl with Extended Fine Black Nappa Leather upholstery.
If you focus on the three big German car manufactures e.g. BMW, Audi and Mercedes they are always playing car leap frog. One will launch a new car and then another will launch something soon after that is a bit more powerful and a bit faster. Sometimes however one of them will surprise you.
Most high performance German cars are based around 4Dr saloon or 2Dr coupe body styles. In 2006 the car that lead BMW in the BHP arms race was the BMW M6 Coupe. This was a front engined, 2Dr coupe powered by a 5.0L V10 Engine that developed 507 BHP. It had genuine technology that BMW had learnt during their years at Formula 1 and would get from 0-62 MPH in under 4 Secs.
Mercedes fought this with the Mercedes SL65 AMG Coupe. This car had 6.0L V12 Twin Turbo engine that developed 604 BHP. Mercedes were and still are the automotive partner for F1 and a version of the SL was used as the Pace Car for most F1 races. It was driven by the legendary driver Bernd Mayländer.
As both of these cars are front engined, rear wheel drive, 2Dr coupes you would of expected Audi to launch something similar to meet the other manufactures head on. Wrong!
To combat the BMW M6 and Mercedes SL Audi launched the R8. This was a mid engined, 4-Wheel Drive 2Dr Coupe that looked more like a rival to something from either Ferrari or Lamborghini. That's right Audi was now in the Supercar business.
The R8 was available with two engine options. The first was a 4.2L V8 which was borrowed from the Audi RS4. This was a great engine that developed 414 BHP. On its own this was a great car but with under 500 BHP it wasn't a true Supercar. Audi remedied this when they introduced the 5.2L v10 version of the R8. This developed 525 BHP and shares a lot of its architecture with the engine found in the Lamborghini Gallardo. The VAG group were now the owners of Lamborghini and the R8 and Gallardo were developed together.
At this point in the history of fast cars manufactures were obsessed with drawing on the influence of Formula 1. This meant that F1 derived paddle change gearbox's were all the rage. The Audi R8 was available with such a gearbox and it was referred to as S-Tronic. Most buyers chose the new style gearbox over the traditional 6-Speed gated manual.
The Audi R8 was built in a new factory in Neckkarsulm, Germany and it is construction in mostly Aluminium. Although now 16 years old the design of the R8 still looks fantastic today. Unlike the more obvious designs from the likes of Ferrari, Lamborghini and Porsche the Audi R8 still looks like concept car.
In the modern motoring world where it seams that we are inflicted with the launch of a new electric car on an almost daily basis a car with a 6-Speed manual gearbox and thunderous V10 petrol engine is the perfect antidote.
At £54,995 this car also represents excellent value. £54,995 is a lot of money to spend on a car however what other Supercars that can match the R8 are available for the same money. You won't buy any Lamborghini for this amount of money and a Ferrari would have to be much older and no where near as capable.
Some cars will get you from A to B. Some cars will get you to B much faster than others. Only a few cars like the Audi R8 are an event to drive. They make you feel good and epitomise what it means to be a petrol head and love cars & driving.
This car is presented in fantastic condition throughout and is complimented by a full Audi service history.
The features & options of this car include:
LED Headlights
Front & Rear Parking Sensors
19" Diamond Polished Alloy Wheels
Lava Grey Side Blades
LED Rear Lights
Reversing Assist Camera
Elec Fold Ext Door Mirrors
Electric Seats
Auto Lights & Wipers
Voice Control
Climate Control A/C
Heated Seats
Mag Ride Adjustable Suspension
Sat-Nav
Phone Prep
ISOFIX in Passenger Seat
CD Changer
Super Sprint Exhaust
To arrange a test drive in this car please contact SkillanNaylor Car Company.
Drive this car from only £979 per month.
Offer based upon a deposit of £10,000 and a term of 60 months.
Offer subject to status and T&Cs apply. Please contact us for further info.